Tascam FW-1884 Users Group Resources
Windows 10 Update 4-28-2018
I now have my FW-1884 up and working in Win 10 Pro!
You can find the tutorial here!

More resourses:
From the RME user's forum:
Win8: For those needing the 1394 OHCI (Legacy) driver
Here is a link to the Sonar Forum that I hope will help.
U9 PDI1394 firewire chip information
I have a good supply of the U9 firewire chip; PDI1394P23BD.
These are NOS Phillips chips, the same exact chip that is on the board.
TUTORIALS:
Windows 7 IEEE 1394 setup, Tascam driver and Sonar plug installation for Sonar X1b.
The "Legacy" firewire setup is much more detailed now and applies to almost all firewire
interfaces and DAW software.
Setting up Windows 7 SonarX and the Tascam FW-1884
Sonar 8.5 and the FW-1884 setup tutorial.
Setting up Windows 7 Sonar 8.5 and the Tascam FW-1884
Getting Your Audio in Sync with Sonar.
in sync with Sonar
FW Manuals, Schematics and Service bulletins:
In searching for info on the Firewire chip, U9, I had a look at the
Service Bulletins that Tascam has released for the FW-1884.
Some users have reported the FW needing a "warm-up" period to
work reliably. Have a look at SB 339 if you are experiencing problems.
Below are PDF files of the all the FW docs I have.
SB 339 Low Zener Voltage
SB 340 U9 Layout Drawing
SB 341r Only "Stop" light on at boot
SB 405 Add protect diode to mic pres
SB 414 Change in Fader Manufacturer
SB 606 Change of U9 Capacitor
FW-1884 Service Manual
FW-1884 Schematic Diagrams
FW-1884 Windows Clean Un-install
DOWNLOADS:
NEW OHCI Test Tool:
This will let you verify that your firewire chipset is TI.
Just download, unzip and run the utility. Piece of cake!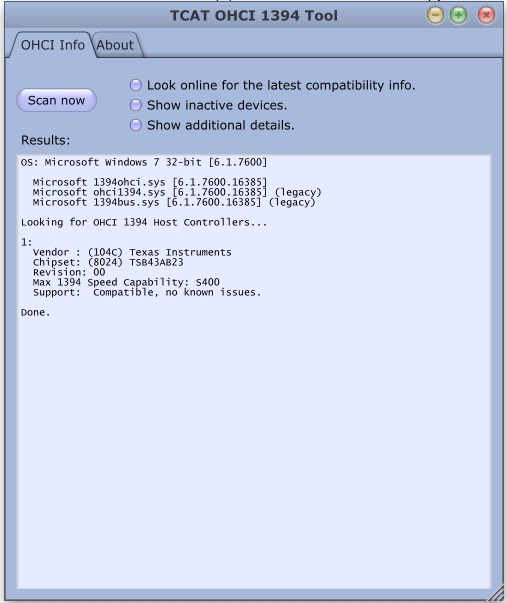 Driver v1.8 available on the Tascam support page!
Tascam labels it: Windows 7 (32 bit/64 bit) Vista SP1 (32 bit/64 bit) Win XP 32 bit (SP2/SP3).
FW1884 Sonar plugin v1.22x64 Win 7 x64 and Sonar x64.
FW1884 Sonar plugin v1.22 This is the "jewel" that got everything working again in Sonar 6 & later.
FW1884 v1.6 drivers Win XP 32 bit drivers, supposed to work for Vista 32 and 64.
FW1884 v1.7 drivers I'm using this in Win 7x32 with good results, release notes indicate that it solved
problems in Vista x64 on systems using more than 2GB of RAM.
Firmware (do NOT install twice!), v1.40 and v1.50 drivers, and the Sonar 5 plugin v1.21 are still available
on the Tascam support page.
Machinator Mod A general discussion of the mod with photos. Not really an installation guide, more a sales brochure.
I still think it would be helpful,
for all concerned if each of us were to amend our Sonar signatures to include a detailed description
of our OS, current state of FW updates and drivers, and how everything is working.
I detail my Win7 x32 & x64 setups here.
If you have something useful; links, software, etc. please PM or email me at DeeringAmps@aol.com.
Today the Forum Search Engine seams to be working good, but I've had problems with it in the past...
Here are some helpful Sonar Forum threads:
Tascam FW-1884 -- Issues, Issues, Issues
question for Tascam FW-1884 users
Tascam FW-1884 new 1.70 driver
Best Firewire card for Tascam FW-1884 I bought the ADS PCI card
Tascam FW-1884 Installation Questions
HELP-FW1884 AND FE-8s - RESOLVED thanks Guypicks
My New Sonar 7 and FW-1884 GuyPicks
TASCAM FireWire Vista Drivers released
Sonar 8PE and the FW-1884 - WORKS
SONAR, VISTA, TASCAM FW1884 64 bit problem
Attention all Sonar 8/8.5 users with a Tascam FW-1884
Tascam FW-1884 -- Shortcut assignments and clock rate
Tascam FW-1884 -- Faders Controlling Mix Buses
Hope this helps
updated: 28 Apr 2018 19:49